The Asagiri-class Destroyers are in service with the Japanese Maritime Self-Defense Force. They are an improved version of the Hatayuki-class destroyer, and has been succeeded by the Murasame-class destroyer.
Eight Asagiri class destroyers were built and commissioned between 1985 and 1991. The keel for lead ship in this class, Asagiri (DD151/TV3516), was laid at IHI shipyard, Tokyo, in February 1985. It was launched in September 1986 and commissioned in March 1988. The ship was converted into a training vessel (TV-3516) in February 2005.
An Asagiri-class destroyer of the Japanese Maritime Self-Defense Forces was mentioned as among the forces deployed in response to the Ginza incident. The vessel is not seen, however, it may have provided gun and missile support against Imperial targets. The Asagiri-class are armed with a variety of weapons, including 76mm cannon, 20mm Phalanx CIWS, Sea Sparrow surface-to-air missiles, Harpoon anti-ship missiles, torpedoes, and anti-submarine weapons.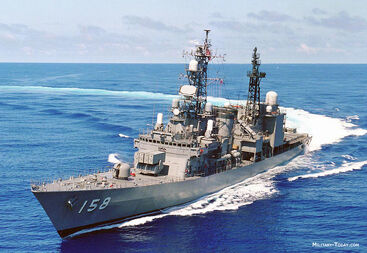 Ad blocker interference detected!
Wikia is a free-to-use site that makes money from advertising. We have a modified experience for viewers using ad blockers

Wikia is not accessible if you've made further modifications. Remove the custom ad blocker rule(s) and the page will load as expected.