Chapter 17
At the World Beyond the Gate
[[File:|280px]]

Volume
3
Previous
← Chapter 16
Next
Chapter 18 →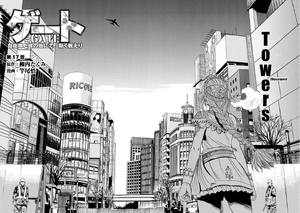 Chapter 17 of the Gate - Thus the JSDF Fought There! Manga, "At the World Beyond the Gate."
Plot
Yōji Itami and the girls arrive and are met by Komakado who belittles Itami's past.
First Itami takes them all to eat at a Japanese fast noodle place the two Empire ladies are shocked at adding a raw egg to the noodles while the other three girls just love it.
Tuka Luna Marceau is fitted for a business suit as her hiphuggers and short top are too deemed too casual for the Japanese National Diet. Rory Mercury and Lelei La Lalena both decide to remain in native dress. Piña Co Lada and Bozes Co Palesti meets with Japanese officials Kōji Sugawara and Reiko Shirayuri for starting talks towards piece with Akira Tomita and Shino Kuribayashi acting as interrupters. The story follows their meeting. A misunderstanding that there will be no ransom for released prisoners of war. A list of prisoners of war will be furnished so they can pick a few. In the end we learn in the Empire a handshake is a marriage gesture.
The final panels show Itami and the Girls entering the Diet.
.
Ad blocker interference detected!
Wikia is a free-to-use site that makes money from advertising. We have a modified experience for viewers using ad blockers

Wikia is not accessible if you've made further modifications. Remove the custom ad blocker rule(s) and the page will load as expected.