Chapter 48
[Emperor Mott Poisoned?]
[[File:{{{image}}}|280px]]

Volume
8
Previous
← Chapter 47
Next
Chapter 49 →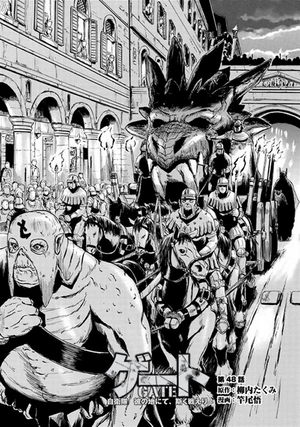 Chapter 48 Gate - Thus the JSDF Fought There! manga title [Emperor Mott Poisoned?]
Plot
Page 1 is the introductory page seen at the right bringing the head of the Flame Dragon to the Royal Palace. Page 2 Molt Sol Augustus, Piña Co Lada, and Zorzal El Caesar are introduced. Pages 3-4 Kōji Sugawara tells Reiko Shirayuri who is who, and Zorzal yells a greeting at the returning empire prisoners upstaging the emperor. Pages 5-6 Sugawara notes Zorzal has intrupted the order of the ceremony. Zorzal recruits the newly returned men, all sharing hate of the Japanese. Pages 7-8 Zorzal radiates hate not only at the Japanese but at the Emperor. The returned prisoners thank Zorzal for his kind words. Pages 9-17 the prisoners recount their travails in Japan. Page 18 the prisoners swear themselves to Zorzal. Pages 19-25 Pina has inner dialogue and interacts with some young people. and talks with Shandy Gaff Marea about the story she wrote of the Flame Dragon's killers including making Tuka Luna Marceau a boy. Pages 26-30 she and Shandy talk about Yōji Itami and Pina warns Shandy that if she cannot do her job around Itami she will never be assigned to work with him. Then they see the Dragon's head arrive. Page 31 Emperor Molt and Marcus talk about the dragon's head and who defeated it. 32-33 Molt looks over the head and gives a speech Page 34 some one asks who killed it and the emperor talks to Pina. Pages 35-39 Pina introduces Shandy who tells the Emperor that Rory Mercury, Yōji Itami, Tuka, Yao Haa Dushi , and Lelei La Lalena deciple of the Sage Kato. The Emperor is excited that a Human from the Empire was among the Dragon slayer. The Emperor names Lelei the Dragon Slayer. Page 40-42 Zorzal is furious for all the attention heaped on Lelei and decides to kill her and his Father Emperor Malt. Page 43 Tyuule and Bouro talk about eliminating Emperor Malt and Lelei. 
Ad blocker interference detected!
Wikia is a free-to-use site that makes money from advertising. We have a modified experience for viewers using ad blockers

Wikia is not accessible if you've made further modifications. Remove the custom ad blocker rule(s) and the page will load as expected.