Chapter 63
[Setup Japan vs Oprichnina?]
[[File:{{{image}}}|280px]]

Previous
← Chapter 62
Next
Chapter 64 →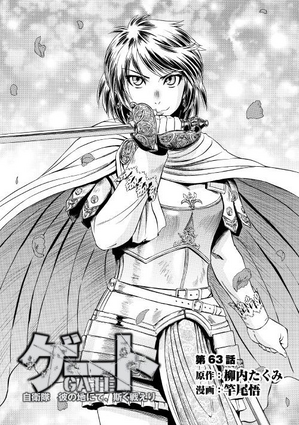 Chapter 63 Gate - Thus the JSDF Fought There! manga title [Setup Japan vs Oprichnina?]
Plot
Bozes Co Palesti discovers she is pregnant by Akira Tomita. Japanese delegation decides they cannot accept refugees from the Oprichnina, The Oprichnina is hot of the trail of Marquis Casel and Sherry Tyueli.
Ad blocker interference detected!
Wikia is a free-to-use site that makes money from advertising. We have a modified experience for viewers using ad blockers

Wikia is not accessible if you've made further modifications. Remove the custom ad blocker rule(s) and the page will load as expected.