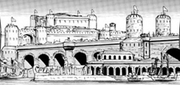 Deabis is a city located on the Roma River, presumably a major port given the large amount of ship traffic, located to the north of the border with Elbe. Deabis itself appears to be heavily fortified, surrounded by numerous towers and centered around a large castle. During their hunt for the Flame Dragon, the Imperial governor of Deabis refused the JSDF entry to the city to use their bridge over the Roma (and, indeed, it is not clear if that stone bridge would support the weight of tanks and other heavy vehicles). Instead, the JSDF crossed the river using boats and amphibious vehicles, bypassing the city.
Ad blocker interference detected!
Wikia is a free-to-use site that makes money from advertising. We have a modified experience for viewers using ad blockers

Wikia is not accessible if you've made further modifications. Remove the custom ad blocker rule(s) and the page will load as expected.