Gate: Weigh Anchor is a sequel series of Gate: Thus The JSDF Fought There. The plot will be focus on the Japan Maritime Self-Defense Forces (JMSDF) force unlike the ground force in the previous series and Yoji Itami will return as a main character and as a captain of the JMSDF. The new mission for Itami is to travel the seas of the Special Region aboard the Oyashio-Type submarine Kitsashi. Weight Anchor takes place 4 years after the timeline in Gate: Thus The JSDF Fought There.
Plot
4 years after the closure of the Gate, The 'Gate' opens again after the otaku Captain Yoji Itami (previously second lieutenant) made a successful connection with the other world. As the Japanese government tries to keep the monopoly on the 'Gate', they send the JSDF to the other world to build a good relationship with the people there. Captain Goro Eajima of the JMSDF goes together with the petty officer Tokujima, his subordinate and former cook, on a mission to explore the other world. At that time, an American journalist gets abducted and Edajima and Tokujima get send on a special mission to rescue the journalist. They both board the Oyashio-class submarine 'Kitashio' and sail the seas of the other world. But there they get mixed into various problems of the islands and the pirates.
Characters
Gallery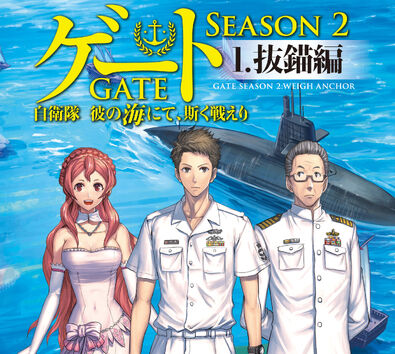 Ad blocker interference detected!
Wikia is a free-to-use site that makes money from advertising. We have a modified experience for viewers using ad blockers

Wikia is not accessible if you've made further modifications. Remove the custom ad blocker rule(s) and the page will load as expected.