The Heckler & Koch HK416 assault rifle is an AR-15-pattern carbine based on the M4 carbine, with the principle feature being a gas piston system based on the Armalite AR-18 derived mechanism of the Heckler & Koch G36. Originally to be marketed as the "HK M4," the name was altered in an out-of-court settlement with Colt following a lawsuit over the latter's M4 trademark: Colt ultimately lost this trademark after Bushmaster Firearms refused to settle in the same way and the term "M4" was legally genericised as a name for carbine-length AR15 pattern rifles. HK has not yet altered the weapon's name in light of this, or indicated any plan to do so.
Japanese Special Forces Group operators are seen with Heckler & Koch HK416s.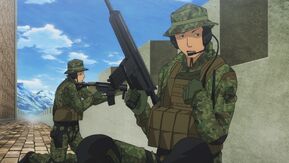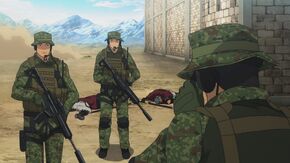 Ad blocker interference detected!
Wikia is a free-to-use site that makes money from advertising. We have a modified experience for viewers using ad blockers

Wikia is not accessible if you've made further modifications. Remove the custom ad blocker rule(s) and the page will load as expected.