The Meal, Ready-to-Eat – commonly known as the MRE – is a self-contained, individual field ration in lightweight packaging bought by the United States military for its service members for use in combat or other field conditions where organized food facilities are not available. While MREs should be kept cool, they do not need to be refrigerated. MREs replaced the canned MCI, or Meal, Combat, Individual rations, in 1981,[1] and is the intended successor to the lighter LRP ration developed by the United States Army for Special Forces and Ranger patrol units in Vietnam. MREs have also been distributed to civilians during natural disasters.
The JSDF has their own version of MRE with different type cuisine and taste.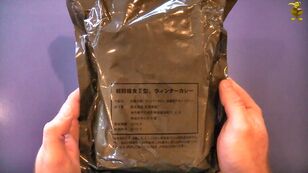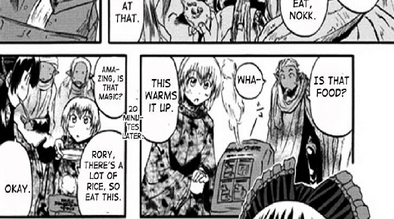 Ad blocker interference detected!
Wikia is a free-to-use site that makes money from advertising. We have a modified experience for viewers using ad blockers

Wikia is not accessible if you've made further modifications. Remove the custom ad blocker rule(s) and the page will load as expected.