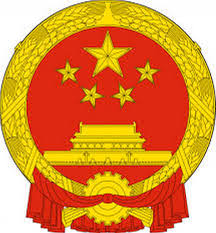 The Ministry of State Security (MSS) is the intelligence agency and security agency of the People's Republic of China (non-military area of interests), responsible for counter-intelligence, foreign intelligence and political security. It is headquartered in Beijing.
Article 4 of the Criminal Procedure Law gives the MSS the same authority to arrest or detain people as regular police for crimes involving state security with identical supervision by the procuratorates and the courts.[2]
The National Intelligence Law of 2017 grants the MSS broad powers to conduct many types of espionage both domestically and abroad, it also gives the MSS the power to administratively detain those who impede or divulge information on intelligence work for up to 15 days.[3]
The network of state security bureaus and the Ministry of State Security should not be confused with the separate but parallel network of public security bureaus, administered by the Ministry of Public Security.
Members
Several unnamed MSS members
Chief Liu
Major Wu Lianpao
Operative Ling Fanghua
12 unnamed female operatives
Gallery