The Foreign Intelligence Service of the Russian Federation (Russian: Слу́жба вне́шней разве́дки, tr. Sluzhba vneshney razvedki; IPA: [ˈsluʐbə ˈvnʲɛʂnʲɪj rɐˈzvʲɛtkʲɪ]) or SVR RF (Russian: СВР РФ) is Russia's external intelligence agency, mainly for civilian affairs. The military affairs espionage counterpart is the GRU. The SVR RF is the successor of the First Chief Directorate (PGU) of the KGB since December 1991.[1] The headquarters of SVR are in the Yasenevo District of Moscow.
The SVR was involved in the Hakone Incident to capture Rory, Lelei, Bozes, Tuka and Pina for intelligent gathering operation about the Special Region. The group of SVR deployed in the Hakone is assumed to the Zaslon, the Russian ultra-secretive black ops unit.
Members
Several unnamed Zaslon members
Gallery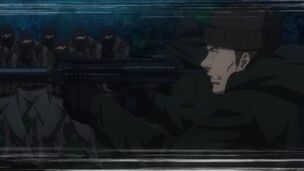 Ad blocker interference detected!
Wikia is a free-to-use site that makes money from advertising. We have a modified experience for viewers using ad blockers

Wikia is not accessible if you've made further modifications. Remove the custom ad blocker rule(s) and the page will load as expected.