The Special Task Force created after the Ginza incident, it was established to explore the Special Region and bring the perpetrators of the incident to justice.
Composition
-1st Combat Unit ( Mixed Corps )
-2nd and 3rd Combat Unit ( Absent )
-4th Combat Unit ( Airborne )
-5th Combat Unit ( Base Defense )
Commanding Officers
Special Task Force: CO: Lieutenant General Hazama
-1st Combat Unit: CO: Colonel Kamo
-4th Combat Unit: CO: Colonel Kengun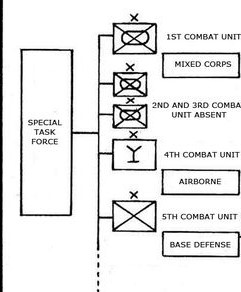 Ad blocker interference detected!
Wikia is a free-to-use site that makes money from advertising. We have a modified experience for viewers using ad blockers

Wikia is not accessible if you've made further modifications. Remove the custom ad blocker rule(s) and the page will load as expected.