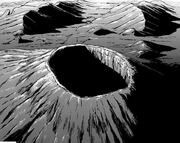 The Tuba Mountains are a north-south trending mountain range located in the Kingdom of Elbe. The mountains separate the Roma River valley with a second, unspecified river to the west, and run south to the borders of the League Principality. The Roldom Canyon and the Schwarz Forest an is located in the northwestern flanks of the Tuba Mountains. The highest peak in the range is a volcano, Mount Tube, which was the site of an final engagement between the Japan Self-Defense Forces and the Flame Dragon, which ended in the death of the dragon and two of its offspring.
Ad blocker interference detected!
Wikia is a free-to-use site that makes money from advertising. We have a modified experience for viewers using ad blockers

Wikia is not accessible if you've made further modifications. Remove the custom ad blocker rule(s) and the page will load as expected.