The Type 87 SPAAG (self-propelled anti-aircraft gun) (87式自走高射機関砲 hati-nana-shiki-jisou-kousya-kikan-hou) is a Japanese air defense weapon built around the Oerlikon 35 mm twin cannon system used on the Gepard tank. The system uses a modified Type 74 tank chassis. It is also nicknamed by field officers as Guntank after the similar-looking mobile suit in the Mobile Suit Gundam series.[1]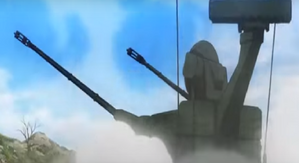 Ad blocker interference detected!
Wikia is a free-to-use site that makes money from advertising. We have a modified experience for viewers using ad blockers

Wikia is not accessible if you've made further modifications. Remove the custom ad blocker rule(s) and the page will load as expected.